Web Conferencing Best Practices Guide: How to Host the Best Webinar Ever!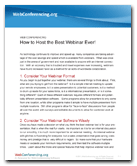 With a troubled economy and ever-increasing travel expenses, webinars have found increased favor as a method for all sorts of nationwide and worldwide communication. Learn about the best practices for delivering the ultimate webinar.
Download our FREE report to learn more about how to host the best webinar ever.