Web Conferencing Buyer's Guide Part 1: Must have Features of Web Conferencing Software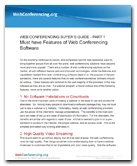 While the features and capabilities needed from web conferencing software depend on the purpose of the presentations, there are several features that no web conference/webinar software should be without. If web conferencing software  is found without one of the following features, move on to another option.
Download our FREE report to learn more about must have web conferencing features.